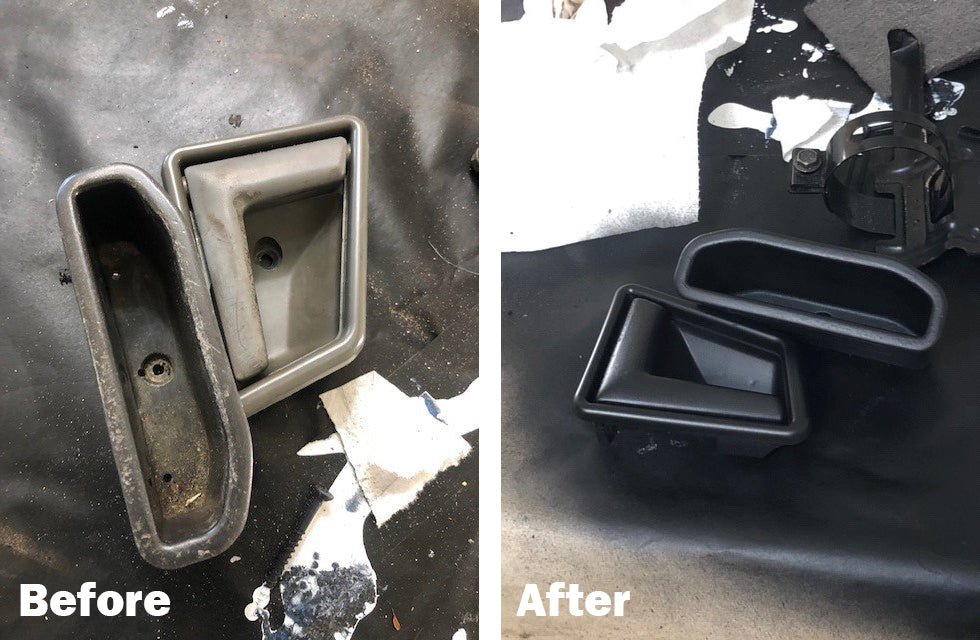 How to Restore Car Interior Plastic
May 11, 2023
Auto interior plastics fade over time, especially if they are regularly exposed to sunlight. Replacement interior trim and restoration interiors can be expensive and sometimes impossible to find. Often the best and most economical option to make car interior plastic look new is to restore the original parts, however this may leave you wondering how to restore car interior plastic components yourself.
Car Interior Plastic Restorers
Some use temporary solutions to make faded plastic parts look better, like plastic and vinyl cleaners and dressings. A permanent solution can be found by refinishing the parts with paint designed for plastic and vinyl.
How to Make Car Interior Plastic Look New
ColorBond LVP is a great way to make car interior plastic look new. The paint is formulated to bond with leather, vinyl and plastic while remaining flexible to remain adhered as the surface flexes, expands and contracts. This keeps it from cracking and peeling. Also helping to avoid this issue is that ColorBond LVP is highly opaque, so it can be applied with a thin film thickness. A thick film is prone to be inflexible which can make it susceptible to cracking and peeling. It works so well it's even used by the Ford Motor Company to make spot repairs on their assembly lines.
Car Interior Restorations
This vintage Datsun 240Z door panel was discolored with age and the vehicle owner wanted to keep the original panel rather than replacing it with a reproduction unit. He contacted a specialist who was familiar with how to restore car interior plastic. ColorBond LVP was recommended to make car interior plastic look new, which not only allowed the door panel to be retained but cost far less than a restoration door panel.
After baking for years in the Florida sun, Chris Ito's original red vinyl and plastic interior was a real horror show. The Thunderbird had been stored outdoors with the top down and the interior color went from red to a brownish color. Chris said he decided to simply repaint the interior with ColorBond LVP to make his car interior plastic look new.
Chris knew how to restore car interior plastic with paint as he had used other brands of automotive interior paint in the past but was never happy with the results; saying that other paints went on too thick, making them prone to cracking. He discovered ColorBond LVP through the Thunderbird restoration parts supplier he buys from. To prepare the interior before painting, Chris used ColorBond Prep Cleaner to clean the door panels, rear quarter trim panels and seats and then applied ColorBond Adhesion Promoter. Overall, Chris used 14 cans of ColorBond LVP at a cost of $327.00. A replacement interior would have cost thousands.
Talk about the unobtainable, imagine trying to find new old stock door handles and pulls, or even used units in good condition, for a 1994 Suzuki Sidekick. That was Andre Laplante's predicament. After many years, the Suzuki's plastic interior and exterior trim pieces had become oxidized and faded and needed a way to make his car interior plastic look new. Andre has completed several interior restorations on his personal vehicles over the years and learned how to restore car interior plastic with ColorBond LVP while working on his '77 Thunderbird. His positive experience led him to use the paint on his Suzuki parts.
Dan Mott's decided to restore the 1968 Oldsmobile Cutlass that was purchased new by his grandmother in 1968. After sitting in an outbuilding for many years, the Cutlass was showing signs of deterioration and was ready for refurbishment. Dan said he learned about ColorBond through a shop that reupholstered his seats and chose to use ColorBond LVP to restore the hard plastic interior trim pieces. The project is currently in progress, and so far, he has used the paint to refinish the console, armrests, and seat backs. Dan says he is very happy with the results.
If you are considering how to restore car interior plastic parts, ColorBond LVP is worth looking at. Like other ColorBond users, you may find it is the best way how to make car interior plastic look new.