Mercedes SLK 230 Interior Restoration with ColorBond
January 23, 2020
Brad Streilein's 1998 Mercedes Benz SLK 230 since has been in the family since it was six years old. The Mercedes has always been a great car and looks fantastic on the outside. However, inside the car is showing its age. The dash, console, glovebox and door pulls are scratched, peeling and unsightly. Brad says it's time to restore the interior.
The problem with the peeling is the plastic components were painted with a rubber like coating that is prone to chipping and peeling and revealing the underlying black plastic. This condition effects most all Mercedes Benz SLK models. While touch-up kits utilizing this coating are available, Brad thought "Why use the same coating that will flake off once again?". He then contacted some automotive upholstery shops to see if they could restore the interior parts but said no one wanted to touch it.
Mercedes Benz Interior Restoration
So, Brad began searching for other interior paints that he could use to refinish the interior himself and came across ColorBond LVP Refinisher. "I was immediately intrigued with the color choices offered by ColorBond and that they offered OME correct colors for Mercedes Benz and gave them a call to learn more about the product" says Brad. "After talking with ColorBond President Malcolm Johnson I decided to order. The paint arrived and I tried it on the roof rack of another of my vehicles. I couldn't believe the quality. It made the plastic portions of the roof rack look just like new. There was no way to tell it was paint! Then I tested some on part of the Mercedes' dash – again an amazing result. The part looks brand new and the grain in the plastic is as defined as without the paint".
The Restoration Process
The first step in the Mercedes SLK 230 interior restoration was to remove the rubber type paint from the hard-plastic dash, console, glovebox and door pulls. Brad found using very hot water loosened the paint and allowed it to be more easily removed, while he used a steamer (like that used to clean drapes) to lift the paint in the nooks and crannies. "I also used my turkey fryer" Brad laughs. "I just made sure I turned off the flame, after the water was heated, before I put the parts in so that they wouldn't melt".
Now that Brad has removed the original rubberized paint, he is ready to paint the components with ColorBond LVP refinisher. The final project and the results of this Mercedes SLK 230 interior restoration will be covered in a future blog post. So, stay tuned for part two of this article!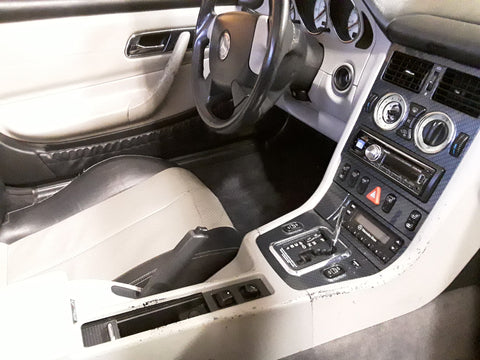 Chipped, scratched and peeling OE coating
Stripping the original coating
Some of the components to be refinished with ColorBond LVP Refinisher
Turkey fryer was used to heat water to make stripping easier!
Interested in using ColorBond LVP Refinisher for your restoration project? Learn more now!